Starting with version 8.40, the SIMPLIS Magnetics Design Module (MDM) can be added to any variant of SIMetrix/SIMPLIS Classic, Pro, or Elite to enable the creation of realistic inductor and transformer models from a large, editable and extendable catalog of standard and customizable components (cores, materials, wires, and bobbins). SIMPLIS MDM enables the calculation of detailed and accurate inductor and transformer losses and temperatures. The Magnetics Design Module works in conjunction with the SIMPLIS simulator.
For inductors, SIMPLIS MDM is accessible using the new Level 2 model of the Multi-Level Lossy PWL Inductor.
MDM provides a new window with an intuitive GUI to build an inductor by selecting a core material, core shape and size, wire material, wire shape and size, bobbin, and number of turns. The user can select standard sizes from the catalogue or define custom sizes.
Using the B-H curves of the selected material stored in MDM's database, a reluctance model of the defined core and an accurate 3D model of the airgaps, a PWL inductance for the inductor is calculated and used in the SIMPLIS circuit simulation.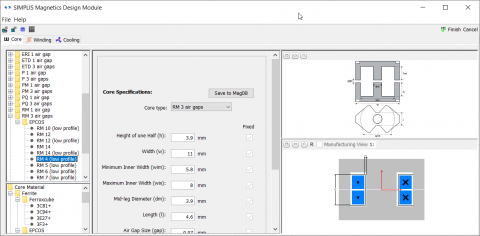 More Information
Check out the SIMPLIS Magnetics Design Module tutorial to see how MDM works with inductors and transformers.
For those interested in evaluating the Magnetics Design Module, visit the Evaluation page and follow the directions to obtain a trial license.
Example Circuits Which Require a Full SIMetrix/SIMPLIS License and the Magnetics Design Module